Before I flew to Russia, I was sitting in the PLACE office watching YouTube videos when I came across this small documentary about Tolia. In it, he talks about growing up in Moscow, living with his father, being creative and how skateboarding helps him express himself. It was quite a good video portrait, but at the same time meeting people face to face can be a totally different experience. With our trip to Russia, I would have the chance to find out.
We arrived in Moscow on a Wednesday and went out to party with the crew on Thursday. In a bar I met Tolia in person and we instantly hit it off. We talked, smoked cigarettes, danced, and before the night was over, he told me that we were now friends. And he was right, we had become friends in a matter of hours.
I got to know him even better during our time in Sochi. And I soon realized that Tolia lives by his own vision: he knows what he wants and how he wants it. He is aware of what's going on and is not afraid to be straightforward and verbalize his opinions. That's a good thing, sometimes I feel that people hold themselves back so they can sustain a public image. But not Tolia –as you can read in this interview.

So let's start off with the most important question, how did you learn to cook?
When I started living with my now ex-girlfriend. I felt it was important to cook, we had a good kitchen in the apartment and so I started making simple salads and pasta dishes at first. From there I progressed into preparing different types of meat. Cooking is easy when you cook every day and keep trying to make new dishes. At the same time, I might have gotten the gift of cooking from my grandmother. She is an amazing cook.
Who is in the Epic Aces Crew?
(laughs) You heard about the Epic Aces crew? It was started by some guys from Saint Petersburg as a joke. We started calling ourselves Epic Aces. We took the logo from a cocktail brand and we had plans to make some clothes, but as of now that hasn't happened. Now it's just an Instagram account so if you want know who the Epic Aces crew is – check out @Epicaces account and look at the people it follows.
Tell me about your friendship with Gosha Rubchinskiy.
I met Gosha about six to seven years ago. I met him at a casting for one of his [runway fashion] shows. I got casted and started to walk in his show. So I walked in his first show, then his second one, and then we started to become friends. Nowadays I help him with his work, for instance with the Vans collabo. I also helped do work on a show and sometimes we just talk about the things he makes. I'm kind off like Gosha's right hand man.

You are also connected to Supreme – how did that happen?
I met the guys from Supreme in Moscow. They were there to work with Gosha on a lookbook for Grind Magazine. Grind is a magazine from Japan and Supreme always shoots a lookbook or an editorial for each new collection they do. So that is where the connection started and this year I went out to Paris for this shoot.
You connected with the scene over there pretty well.
When I was out there, there where a lot of people visiting Paris. Alex Olson and a couple of the Bianca Chandon guys were in town, I met all the Blobbys, and I became good friends with Kevin Rodgrigues, Greg Cuadrado, Guillaume Périmony, and the rest of the crew. Those were a fun two weeks, I love those guys. Those guys go out to and try to learn a new trick every time. I think the skate scene in Paris is the most influential scene at the moment.
There is also a Dutch connection right?
Yeah, I met Noah Bunink last summer. He was booked to walk in a show for Gosha and I met him through that. We started to become good friends. He's actually my English teacher (laughs). Noah is also a really good creative skater. I like his style. He can skate everywhere.
Coincidentally, a lot of those guys skate for Converse and you recently made the move from Vans to Cons. What happened?
I skated for Vans for about three-and-a-half years. The old team manager, Vitalik, is a good friend of mine. He did a lot for skateboarding in Russia. He would host competitions, helped to get skateparks built, and organized a lot of tours for us to go on. The problems started when Vitalek left Vans to go work at Adidas. Vans waited for some time before they appointed a new person and when they did, this person didn't have that connection with skating. So for the last year-and-a-half, the situation wasn't that cool anymore. We only did one tour and it wasn't set up like it used to with Vitalek. I still think Vans is doing good in Russia, but I think I've got a brighter future over at Converse.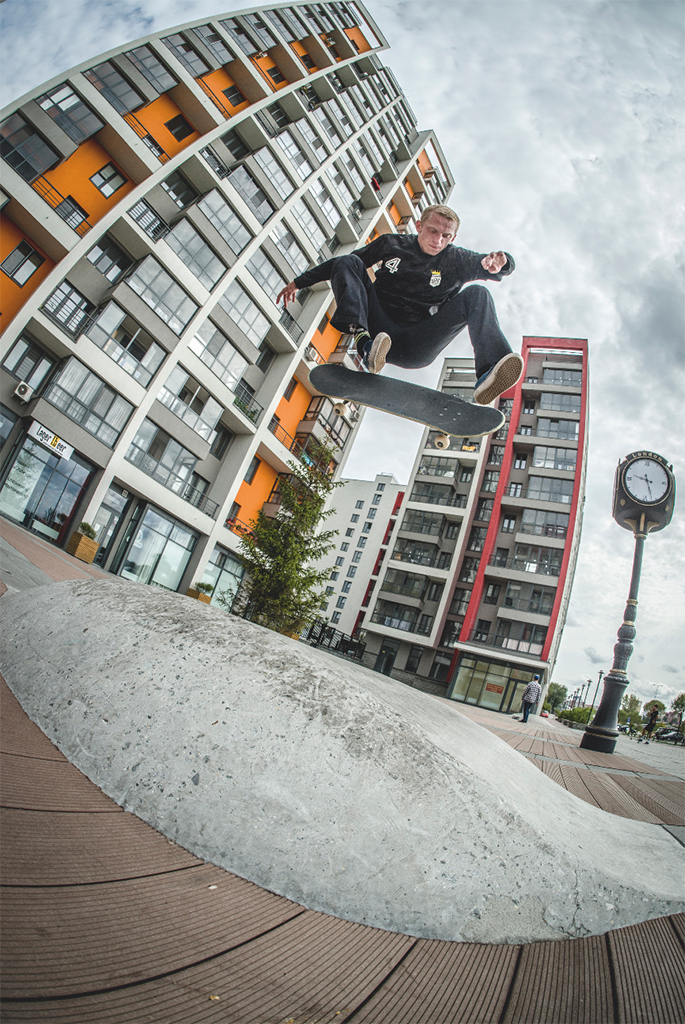 Kickflip
Drawing is another hobby of yours right, I remember being in the Absurd office and you showed me the sticker pack that you made.
I've been drawing all my life. The sticker pack was actually the first time I designed an actual product. At first, I was really happy with those drawings, but now a couple of years later I can't look at them anymore. I would like to do some new ones, so that people can see how my style progressed.
You told me that you also do stick-and-poke tattoos. You started that at an early age right?
I did my first stick and poke tattoo at 13. My best friend asked me to do it, I was so worried something would go wrong. Tattooing at home can be unhygienic and I didn't want him to get an infection or something. He just told me, 'Fuck it, let's just try it!' That was the first one and since then I have been tattooing a lot of my friends. And as with everything, I got better with practice. This year I went out to London to work there as a tattoo artist. My work is in demand because I have my own distinct style. When I do tattoos, it's important that the quality is always the same. People pay good money for my work and I think it's important that I do good work every time I tattoo someone.
Where do you see Russian skateboarding going in the next couple of years?
I think last year was a good year for Russia. People are starting to recognize Russian skaters like Gosha Konyshev who had a part on Thrasher or Max Kruglov who won a lot of contests. Next year is going to be even better, though. We got so many spots and you don't really get kicked out. I would like tell everyone you need to come and skate in Russia!
Do you think that skate brands from Russia are going to benefit from the growing interest in Russia?
I don't know, I think the skate brands need to refresh their look. It could be good for Russian kids to see a Russian brand do well overseas and I think Russian design is really good. Absurd for example has done some great things, but right now I think we can do better. Pasha designed the new series. I haven't seen the graphics yet, but in the past he always made great graphics so it could be the right thing at the right time. We need to keep the Russian identity, [mixed] with designs that appeal internationally.

Is there a young generation on the rise as well?
Well, we got Dima aka Dimzer Z who is a filmer, but he's also got some crazy tricks like fakie 540's on flat. Then there is a kid named Gleb aka I.killyou. He's sixteen and I'm out skating with him all the time. He's so good and I hope he's got a bright future. They are working on the "Troica 2" video right now.
When I was partying with you in Moscow, I noticed that Russian music is really a part of the Russian party lifestyle. Do Russians really celebrate their own culture?
Well, next year I'm filming a new part and I'm pretty sure I want it to be edited to some Russian music. It's important to use Russian things because I am from Russia. I've lived in Moscow my whole life, and to show people my Russian side is important to me. You need to love your hometown and your country. I could move outside of the country but I always have to come back home. My friends are here and my family is here and they are important.

Tolia's video for Place
Interview by: Roland Hoogwater
Photos by: Alexey Lapin / @lapinotomy